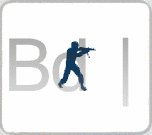 FAQ
Q.Where have you guys been?
A. We both work full time and go to school full time, so as you may be able to guess, there was no time for cs.


Q. Why have you guys returned?
A. A friend of ours at work wanted to play with us, and seeing as how we were already playign with him we decided to mount a full fledged return.

Q. Where is everybody else?
A. Contact has been lost between members. Sadly : (

Q. WHy do you have a faq?
A. cause im gay.